Each year I do a 'my favourite Halloween movies' and don't get me wrong this year is hard because I've already shared with you some of my favourites! You can see both posts here & here and if I'm honest I still watch all of these films religiously because they're my go to favourite films to watch at Halloween. I'm not into gore or anything super scary, but I do love the super natural, old school monster movies and our family friendly classics. It's going to be a hard post after two successful movie recommendations, so here is my third MY FAVOURITE HALLOWEEN FILMS!
The Lost Boys ~ 1987 ~ comedy, horror
When brothers Michael and Sam move to Santa Carla, they soon discover that the beach town is a haven for vampires! Michael gets involved with the wrong crowd and soon has to fight the head vampire and his crew to save his family and girlfriend.
I love The Lost Boys and have since I was a child, it reminds me of my Dad because of how much we used to watch it and it's become one of my favourite films of all time. I love it for it's fashion, music, hints of comedy which is definitely the typical 80's charm and IT HAS FRIGGIN CUTE ASS ROCKER VAMPIRES. I watch this year round but it's definitely one of my favourites to watch at Halloween, I recommend it if you like a good put together film which for me is not just about the scare at all.
The Little Vampire ~ 2000 ~ adventure, comedy
Little Tony Thompson moves away from America to an old town in Scotland, where he becomes best friends with a vampire!
I absolutely love this film for not only how cute it is, but I just think it's a perfect family film if you're children is into the supernatural. Little Jonathan Lipnicki who plays Tony doesn't really fit in with the locals and has spooky nightmares about vampires, so when one flies into his window he jumps at the chance to prove his friendship and help them to become mortal! This film has humour, flying cows, vampire hunters and yep I said it flying cows. I just think it uses the stereotypical vampire to bring a family fun film and it also features Richard E.Grant! I used to fancy Rudolph the vampire boy when I was a kid, how weird does that feel now.
The Addams Family Values ~ 1993 ~ comedy
The Addams family are back with another family fun film which is PERFECT for Halloween. When Morticia has a baby the family hire a Nanny, who's affections for Fester have an underlying motive. They ship the kids to camp, whilst Debbie the Nanny marries Fester for his money then tries to kill him off including the rest of the Addams clan. I don't know how I haven't included this film in one of my other Halloween favourites, because it's definitely one of my favourites of all time. I love the quotes from this film, the character Debbie herself is none other than Joan Cusack! I was always a quirky child and I used to watch this to death with my family, so it always holds some nostalgic feelings for me because I always picture myself laid on the sofa on a Sunday with my siblings quoting the film as it's playing. What about Debbie.
Ghostbusters ~ 1984 ~ adventure, comedy
Three former parapsychology professors set up shop as a unique ghost removal service.
I think you can tell by now none of my Halloween picks are scary because I'm not really into that genre of film, but Ghostbusters is another family friendly pick that I think is perfect for a light night in at Halloween time. For me I love the first film because of the plot line, I love that monsters plague New York and demon dogs take over the bodies of two hilarious actors Rick Moranis and Sigourney Weaver.
Frankenweenie ~ 2012 ~ animation, family
Young Victor conducts a science experiment using lightening to bring his beloved dog Sparky back to life, but he soon faces unnatural consequences as kids in the school start bringing their own pets back from the dead.
I love this film, it's by one of my favourite movie makers Tim Burton, but in a style of animation quite different from what we're all used to. Even though the sculpted characters look like his style of creation, I just think with the film being in black and white and having an old tv airing feel to it, its a different style of animation for us Burton lovers. I went to see this in the cinema when it first came out on Halloween and it was so much fun to see everyone dressed up for the occasion! Good memories make a good film and I think this is perfect if you're wanting a family friendly movie this Halloween. It's a twist on the story of Frankenstein we all know.
Once bitten ~ 1985 ~ comedy, horror
Mark Kendall (Jim Carrey) hasn't had sex yet, so when a vampire countess who needs to drink the blood of a virgin to keep her eternal beauty shows up, it all goes down.
I had no clue this film even existed till this year, it's weird, very different for Carrey but is full of his charm which we know from his later films! It's pure 80's which I love, especially as the vampires including the countess are so stylish they're drop dead gorgeous. It's a vampire film I'd never really heard of before but its definitely funny, full of 80's humour, teenage kids running away from the big bad vampire, but what I love most is as Kendall is becoming under her spell he starts to become a vampire, Carrey using his hilarious acting skills to play the part of a changing human teenage boy. It's just an easy to watch American high school film with a twist.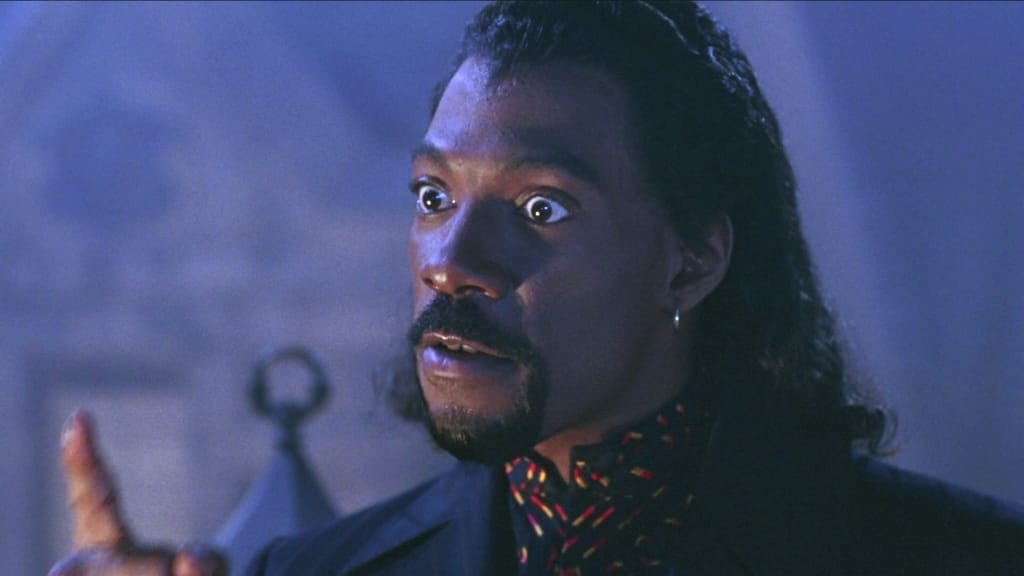 Vampire in Brooklyn ~ 1995 ~ comedy, fantasy, horror
Maximillian is one of the last vampires of his kind and needs to mate to keep his blood line going, he knows of a child who was born with a vampire father, so in search for her he heads to Brooklyn. Rita is a cop and doesn't know shes part vampire, so when a mysterious man casts his spell on her, she finds her world turned upside down as not only does she crave blood but she finds herself fighting to keep her humanity.
Eddie Murphy brings us his hilarious charm but in a complete different role, there being no gags or one liners, just hilarious 90's vampire movie charm. I love characters like his hench man/Goul, and how the film is so Brooklyn it just adds to the comedy of this film. I really love films for Halloween that are just more than the jump scares, comedy also dims down how scary a film can be and to be honest there isn't anything too scary about this one. If you're a fan of Murphy and the style of film he features in, this will definitely be a twist for you as he's so traditional Dracula it hurts.
I don't know how I manage to do a third post on my favourite Halloween films, but I hope you loved my twist on it and definitely check out these films if you haven't seen them already!